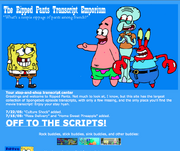 "
THE transcript site for several years. An affiliate to Sarah's Shrine, SBM, and SpongyMedia. I was impressed with the amount of transcripts that were transcribed back in the day. I believe all but one were written. I think this is the site that got me into typing transcripts in the long run. Originally it was SBA but then I saw Ripped Pants and wanted to improve SBM so much that I just kept going and going like the energizer bunny.
"
 
Ripped Pants was a SpongeBob SquarePants fansite.
Ad blocker interference detected!
Wikia is a free-to-use site that makes money from advertising. We have a modified experience for viewers using ad blockers

Wikia is not accessible if you've made further modifications. Remove the custom ad blocker rule(s) and the page will load as expected.