Nick Jr. Awkward, Octopus:

Atlantis Adventure!

Movie No.
1
Episode No.
25
Airdate
Summer 2015
Budget
N/A
Box office
N/A
Prev. ep
New Bike!
Next. ep
Banana!
Atlantis Adventure! 
(also marketed as 
The Awkward Octopus Movie: Awkward Atlantis Adventure
) is a cinematic movie/TV special episode of the
SpongeBob
spinoff,
Awkward, Octopus
that will be released on the Summer of 2015.
The focus of the movie is that SpongeBob has been captured and taken to Atlantis by Plankton, which he was going to make him the fry cook of the city by stealing the secret formula that has been hidden in the city for a long time. Squidward and his friends must retrieve it and save SpongeBob, before Atlantis will be ruled by Plankton! (Said by Aparnaa)
Confirmed Information 
Edit
On July 31st, 2014, the title was revealed to be Atlantis Adventure!, and it's also stated that it will be a movie and a TV special.
On August 2nd, 2014, the page was moved to the new Fanonia SpongeBobia wiki.
On December 30th, 2014, Aparnaa, a user of SFW announced that it will be rescheduled to Summer of 2015, due to the fact it actually fits the title.
In January 3rd, 2015, the promotional poster was released.
Reception
Edit
The film has not been released as of the moment. Reception for the original series has been positive, due to the inclusion of educational concepts and thoughtful song lyrics.
Production
Edit
Storyline
The film entails Squidward (the title character), as well as his friends Sandy, Mr. Krabs and Patrick, on a quest to find the secret formula in Atlantis in order to save SpongeBob before their enemy Plankton. Further plot elements have been revealed to the public, yet have not been worked into the storyline.
Like in the second 'SpongeBob movie, cast and crew members have provided further insight into the plot of the movie, as well as their views on how successful the movie will be.
Fanon Comic-Con 2015
Edit
Coming Soon!
Main Characters
Edit
Tom Kenny - SpongeBob SquarePants / Gary the Snail
Bill Fagerbakke - Patrick Star
Roger Bumpass as Squidward Tentacles
Carolyn Lawrence as Sandy Cheeks
Clancy Brown as Eugene H. Krabs
Mr. Lawrence as Sheldon J. Plankton
Mary Jo Catlett as Mrs. Puff
Lori Alan as Pearl
Jill Talley as Karen
Jeffrey Tambor as King Neptune
Victoria Beckham as Queen Amphitrite
Scarlett Johansson as Princess Mindy
It is the third episode in the second season of the series (although it is a cinematic movie special), and the fourth episode not to be written by creator Mélodilous (known as "Squidward Tentacles" on SpongeBob Fanon Wiki).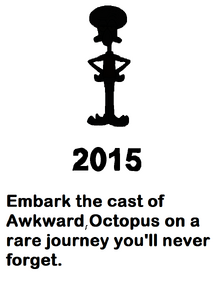 Ad blocker interference detected!
Wikia is a free-to-use site that makes money from advertising. We have a modified experience for viewers using ad blockers

Wikia is not accessible if you've made further modifications. Remove the custom ad blocker rule(s) and the page will load as expected.